Use Code AUGSALE For 70% Off Orders Over 49.99
Tree Of Life All In One Spirit and Spell Tree Of Life Box Boost 3 levels, Bond Building and Recharging!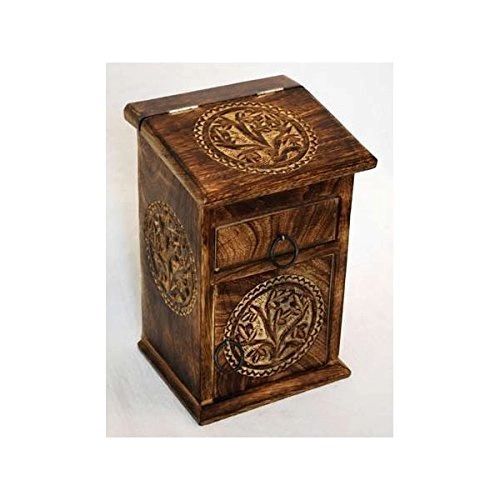 Description
I am very excited to offer this all in one spirit and spell box!
These are made to order...Please allow 2 to 3 weeks for shipment. 
This large size cupboard style box is the only spirit box you will ever need. 
There are 3 storage compartments...Each has a different purpose.
One cleanses and recharges all spirits, spells and entities within 1 hour.
The Second compartment works as a bonding box which allows your spirits and entities to form bonds...Once a bond is sealed harmony enters your spirit family and more powerful magick follows.
The Third compartment works as a spirit, entity and spell booster. It can boost any spirit, spell or entity up to 3 entire levels!
We have spent nearly 2 months creating this extraordinary piece for you.
This also works as a wonderful place to store as well as reward your spirits and entities. It can also charge herbs and incense which allows them to become more potent offerings.
The box is beautiful and rustic! It's about 9" tall and 5" deep. There us a tree of life carved into the box. This box is rustic and is made with imperfection. This is a stock photo so the one you receive may vary from the one in the picture.
International clients...Please email me for correct shipping cost. This weighs nearly 2 pounds so shipping will be around 25.00 worldwide. The price given is for US clients only.