Use Code Samhain80 For 80% Off Orders Over 99.99
SUPER SALE Powerful Spell Cast Pendulum Allows For Instant Spirit Communication - Added Unbound Protection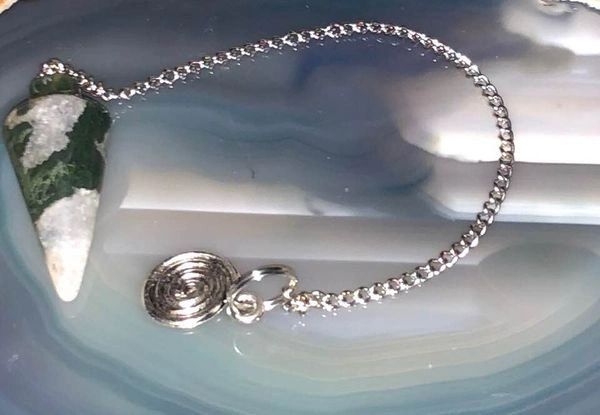 Description
Today I offer you a single spell cast pendulum for more vivid, more effective and safe spirit communication.
These come in a variety of colors so please note your pendulum will be a different.


These are full coven custom spelled for safe use...Using a spelled pendulum such as this prevents negative unbound entities from interfering. You will only speak to the spirits you wish to!

This is more then just your run of the mill pendulum. By it's self it's a powerful spirit communication tool but this has been spelled to open your inner. With use you will notice you become more open to the spirit world. You can feel, hear, sense and even see the spirits around you. 

This is the lowest price I have ever offered any pendulum for. The 14.99 is pretty close to the wholesale cost. These are very limited! 

I know there has been worry about the inner eye being opened to fast. With this spell this something you do not need to worry about. It is 100% safe and works with you as a pace you are ready for. 

Any block that is keeping you from getting to know your spirits will be removed...This leads to bonding faster and stronger bonds. 

The spell will protect you from evil entities and will banish negative energy. Nothing evil or harmful can use this to reach you.

This spell is a full coven casting and is powerful but safe for you. 

The pendulum is very nice and the colors are amazing! It's cherry quartz which is a mix of clear and golden lines. The pendulum is nicely made and well-balanced. The pendulum you get may vary slightly in color from the one pictured. I will send it with a storage bag and full instructions. Please note that this color of pendulum may come with a holding bead.

If you are looking for the most powerful of powerful pendulums please our site under spirit communication.

Thank you for looking!