Use Code 75fall For 75% Off Orders Over 69.99
Spirit Communication Earrings - Feel, Sense and Communicate With Entities 3X On Each Earring! Beautiful Roses!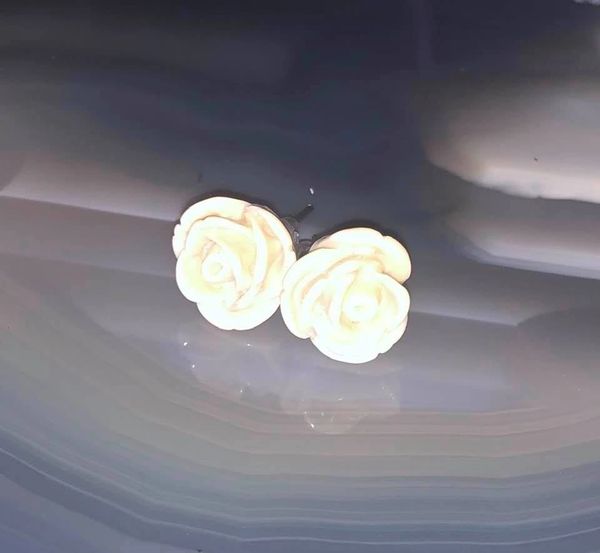 Description
My coven and just completed these last night...These are unique being that each earring has it's own 3X cast spell so you get two spells for the price of one!
These earrings come in an array of colors. I will send the best color I have available. They come in an array of colors. I currently have these in black, cream, and blue roses.

Do you ever wish you could feel, hear and even see spirits and entities? If so this spelled pair of earrings is perfect for you!
These are triple cast and will help their user with spirit sensing and communication!
These earrings also offer protection so no evil or negative entities can come through. No harm nor scary visions of chaos entities will touch you.
Some people have a natural gift and can easily see and communicate with the spirits. Others have a more difficult time experiencing strong paranormal activity with their spiritual items.
My coven and I have perfected this bead to help open your medium abilities. Soon you can connect with the Spirits around you.
These have been spelled to work and have a great success rate. It is safe for you to use and will move at a pace you are ready for.
 If you are the possessor of one of this we highly recommend a bonding type ritual to start the merging of the energy. Details will be sent to you and I will be here to offer all the guidance and help you may need but I assure it's simple.
For the best results we need you to believe and to be a positive force. You must embrace this with a open mind and a open heart. If the items you own are truly haunted you should see and experience more activity. If you are not 100% positive or 100% dedicated then please just pass this offering by. We need your beliefs to match are own. People who have doubt in their hearts may have limited success. For those of you who believe a whole new outlook on the spirit world and the spirits within it await you.
If you have any questions please let me know.
For this spell we used an lovely rose style...My favorite style and color!
Thank you for looking!
Please allow 5 to 7 working days to prepare and ship.