Use Code 85MEM For 85% Off Orders Over $249.99
Spell Cast Altar Bell Helps In Bonding, Stronger Spells and Calls Back Lost Spirits - Our Most Powerful 3X Cast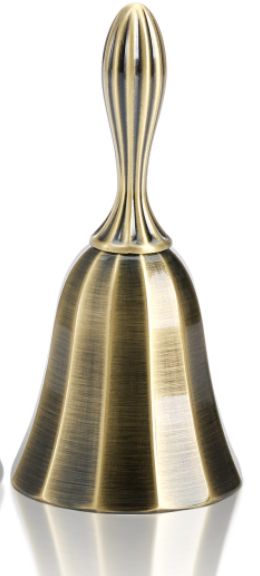 Description
I am very excited to offer this most magickal of altar bells!
This listing is for one bell. This is a stock photo. Bell may differ slightly in style. 
This is a full coven casting and is offered for the first time on a larger deluxe style. This is the most powerful altar bell we offer!

This lovely little bell is spelled to be a very useful tool...
What this bell can do for you...
Ringing it before any ritual can call your spirits to your altar and will give you their complete attention.
Ringing it before a bonding ritual will instantly remove any negative energy that may hinder bonding...This bell was created to really help boost bonds!
If you lose a spirit or entity you can ring the bell to call them home.
There is also spell and spirit boosting spell cast upon this bell...Any spirit or spelled amulet that is placed next to it will be energized and boosted. Any spell or ritual you preform next to it will be stronger and can even manifest sooner!
Free your altar of all negative energy, call spirits back to you, boost spells and create your own magick, all with the ring of a bell!
The bell you will get is about 4" Please note this is a stock photo so the bell you get may vary slightly.
Please let me know if you have any questions.
Thank you for looking!