Use Code FALL75 For 75% Off Orders Over 49.99
SALE Extra Large 14" Extra Large Silk God, Royals, Daemon Level Recharging, Bonding Storage Bag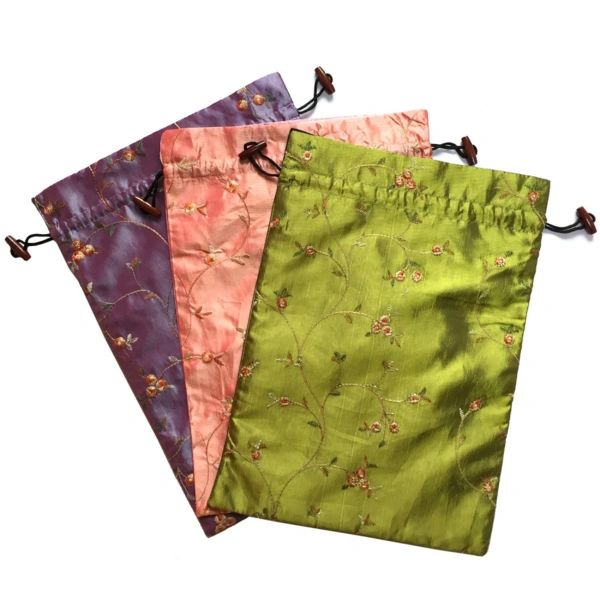 Description
Up for your consideration is our original creation the recharging/bonding bag. This one bag was created by my coven and I for Royals and Gods. It creates and provides high level of energy that any Royal and God entities/spirits require. This will also work for lower level entities and spirits.

These are very large bags...Each one is 12" tall...Each is remarkably made and can hold nearly any vessel....These are so large that they can even hold and boost most God ruled wishing box.
Many people have asked for this box to work for their Daemons...This does work perfectly for Daemons...It also serves as a wonderful offering or as a energy booster right before they take on any task.

This is a very important spiritual tool that can bring out the best in any spirit and renew all your spelled items as well.

I also created this bag to be used as a bonding bag for your spirits. 24 hours within this bag will help build strong bonds between your spirits. Once these bonds have been sealed your spirits will reside and work together in harmony to bring you magick that is greater in power and faster. This bag can be very useful when you have spirits from other sellers. It can also help bring spirits of light and dark together. 
Each will merge energies and grow respect for one another.

A recharging bag is useful for us as we all can get busy and during those times some of our spirits grow weak. The bag offered today will not only recharge their energy but can improve a spirits/entities magickal abilities making them stronger then before. Your spirits, entities and spells will be stronger then normal with a high spiritual energy...

What I offer is much more then just your run of the mill charging bag...I offer a rare bag that charges and brings a closeness within your spiritual/entity family. 

If you have any questions please feel free to email me. 

This is the deluxe version and was made to last life times!

When not in use as a bonding bag. it also works as a fast recharging bag for both royal or gods spirits and spell cast amulets.

The bag we used is truly beautiful. The bag you get will vary in color. It has a drawstring closure...But perhaps the best thing about this bag is it's size. It's a jumbo bag at 14" x11" It's big enough and magickal enough to hold most people's entire spirit family at once.

Thank you for looking!