Use Code 85MEM For 85% Off Orders Over $249.99
Ready To Ship SAMHAIN 2022 Pendulum - Prediction Inner Eye Spelled Pendulum In-Depth Spirit/Entity Communication - Free Alignment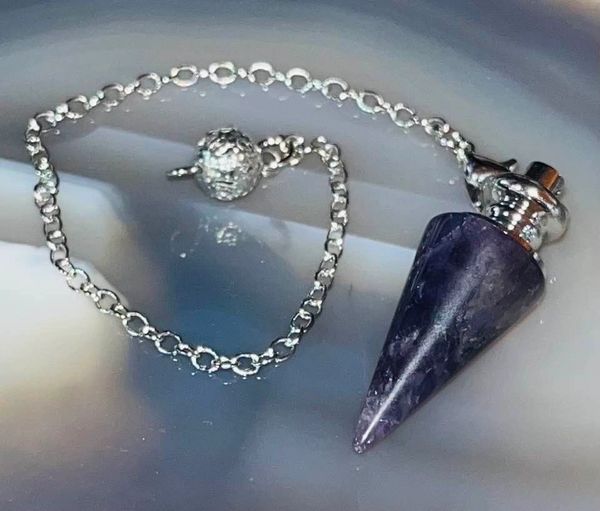 Description
The most powerful pendulums of the year are finally here! We created that Samhain night to offer this Samhain...These are extremely potent and very accurate!
We will also be opening a couple custom Samhain pendulum space of 2023 later this week!
Samhain is the most powerful night of year and possesses potent magick. We will channel that special magick and imbued it on the pendulum.
This pendulum will contain Samhain level magick it's entire existence! 
About our pendulums.
Up for your consideration is pendulum that will help it's user in many ways...It has been spelled to enhance your psychic abilities and answer many of life's hardest questions. 
This is alive with energy and will bless it's user with clear spirit and entity communication!
Each an excellent and highly accurate pendulum that is brand new. We made sure to boost, refresh and cleanse the pendulum so it is ready to work!
This is safest and most accurate spell cast pendulum.

These were spell cast during Samhain which has boosted their magick greatly. Samhain pendulums are rarely offered. This is a newly custom cast and is buzzing with energy! What more, this spell and this pendulum work....It can last a life time!

Once your energy merges with it's own your pendulum can help guide you through life and help make the right choices. You mind will start to relax and grow to understand things that once confused you.

This pendulum has been spelled to aid you in a psychic awakening. The spell used has been in my family for over 100 years and has a extremely high success rate.

You can expect a safe opening of your inner eye

More vivid spirit communication that is easy to understand

More advanced telepathy skills

Make predictions

Have better judgment

Know what people and situations to avoid

Know what spirit is near and know it's true intentions and have better psychic sight.

This pendulum has been spelled for protection...It will not communicate with evil or negative unbounds so you will be safe and speak with only the spirits/entities you wish to.
jamie@blujay76.co
The pendulum offered are of the highest quality and perfectly balanced. This is a beautiful pendulum that is a dark amethyst. It comes with a holding chain and bead. I will send your pendulum with a basic recharging bag as well as instructions. Please note your pendant may vary in color from the photo but only slightly.

If you have any questions please feel free to email me.

Thank you for looking!