Use Code 80winter For 80% Off Orders Over $99.99
Prince Hippocampus - Healing, Popularity, Treasure, and Love - Brings Love, Friends, Treasure, Comfort, and Happiness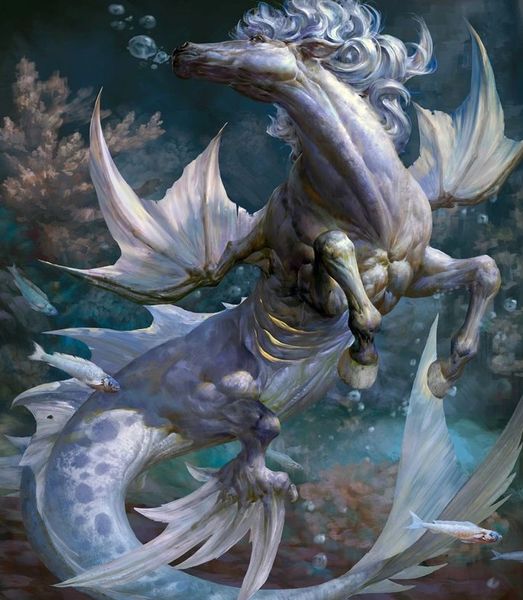 Description
Today we offer a rare Prince Hippocampus...He is leads a small but powerful court of over 150.
The Hippocampus is a very powerful white art entity who are more than capable of turning the tides for their keeper...They are especially powerful when it comes to bringing their keeper good luck, install harmony, gift energy to other spirits in your family, and healing.
In true form he manifest as half horse and what resembles a sea horse. I chose a photo that best represents him best...He will manifest as shimmering blue orbs, shadows, and glowing mists. He can also use water to manifest. 
They are compassionate and caring spirits that enjoy human companionship. When you bring him into your life you will never have to fear being lonely again. He offers you his friendship, someone to talk to in times of need, comfort and unconditional love.
He can help your possess a new and active social life surrounded with good friends...He can pass on an allure that draws in positive people.
He offers minor healing of aches and pains...He can ease tension and install peace within his keeper.
He will attract many blessings into your life and remove negative barriers holding you back from pure happiness.
You will also experience a sudden uplift in your mood.... He will never leave you feeling sad, alone, anxious or angry!  He eases painful memories and can help heal your broken heart. In times of need he will be the first by your side and will not give up until you are happy again! 
He is able to guide lower level entities to full power.
He can attract positive energy and positive spirits to his keeper.
He communicates by emotions, visions, telepathy, dreams, a pendulum, and during meditation.

His current vessel is a bead.
Thank you for looking!