Use Code YULE80 For 80% Off Orders Over 129.99
Young Pegasus - Brings Happiness To The Most Negative Of People Sweet Active and 100% Magickal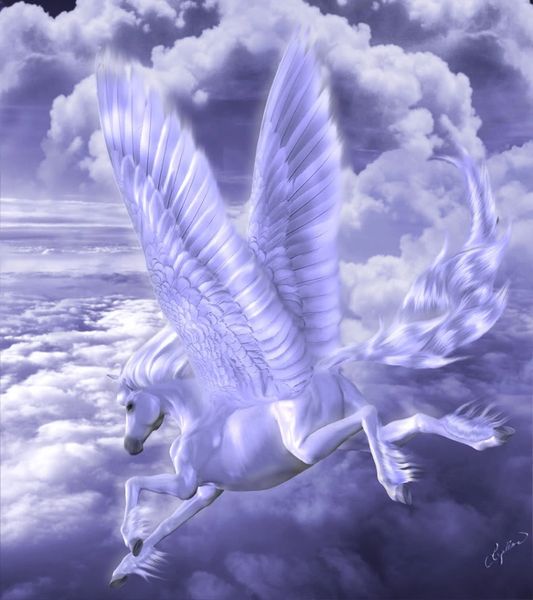 Description
Up for your consideration is a beautiful playful baby Pegasus. She/he may be young but she/he holds amazing magick that will bless her/his keeper in many ways.
I have both males and females that are ready to be with their keeper. Each is very excited to meet you. 
Possessing a baby Pegasus is like possessing a feeling of never ending happiness. They are pure entities who radiate positive feelings that flow freely through their keepers home. Grumpy or moody people often find a new found happiness and stressed people normally find more relaxation
Their magick have exceeded our expectations is every way and she/he has gone beyond everything that was asked for. If you have been wanting something to bring some love and excitement into your spiritual family you have found her/him. 

For those who are new to the Pegasus I would like to share some info...A Pegasus is of pure White magick and will renew your life. She/he will cleanse away any negativity and open your eyes many things including the spirit world, peoples thoughts and give you a natural psychic ability. They also can improve your way of thinking and living while helping to restore youth and bringing out your inner child. She will show you the meaning of your life as well bring peace and positivity to it. They are also advanced travelers with their gift of flight and if you desire astral travel to other worlds and realms she will happily take you. If you are lost or lacking hope she will show you the bright side of things and will make everyday better and better. 

Her/his best means of communication are telepathy, visions and dreams...These grow more vivid with each passing day. I highly suggest meditating with her as she is allows for vivid interaction. She is a bonding spirit and I will send that ritual with her name to her new keeper. She is a spirit of destiny who will call to the one so please listen closely for she may be your fate.
If you have any questions please feel free to email me.
To her/him price at a rather low cost she/he resides in a polished stone. You may move her/him to any vessel you wish to or you may bind her/him to you
Thank you for looking