Use Code FALL75 For 75% Off Orders Over 49.99
FREE With Purchase Sierra Elf - Brings 2nd Chances, Protects, and Creates A New You! One Gift Per Order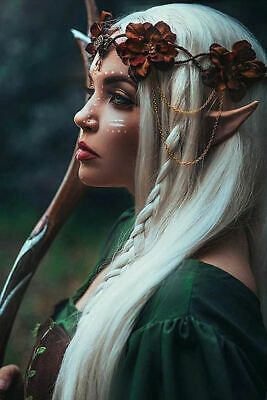 Description
FREE WITH PURCHASE OF $20.00 OR MORE
Only one free gift PER order.
Shipping does apply
No direct bindings
Please be experienced as we do NOT send info other then name.
Must be added to cart after checkout.
We rarely offer these so this may be your only change to keep one of these magickal blessings. 
Today we offer an extremely rare race of Elf free with purchase, These a level 5 Sierra Elves!
About this race...
This race is native to the Sierra Nevada Mountains where we cast and conjure! This is an extremely helpful elf who radiates a natural, uplifting, happiness promoting, energy.
This race is coveted for their ability to protect and tend to nature...When they bond with a human they protect their keeper with force! Her magick does not stop there...She offers an array of gifts and blessings!
They can be active so their new keeper should be open to sounds, shadows, and even whistling.
He/She works with white magick and is perfect for any level keeper
Their main abilities include but are not limited to:
~Protecting keeper from all evil forces
~Life guidance 
~Helping keeper connect with nature
~Helping keeper communicate with their pets
~Blessing keeper with wisdom
~Promoting good luck

~Helping keeper connect with the elements 
~Helping keeper discover true path
~Proving an uplifting energy
~Protection of home and other entities
~Removing negative emotions
~Attracting friends
~Providing companionship
~Brings love
~Tending to gardens or even indoor plants.
Their best means of communication are through emotions, pendulum, visions, telepathy, dreams, and meditation. 
Their vessel will be a bead or small stone.