Use Code samhain80 For 80% Off Orders Over 99.99
FREE WITH PURCHASE OF 50.00 OR MORE - SHIP DOES APPLY - 1X CAST PENDULUM - ONE PER CUSTOMER :)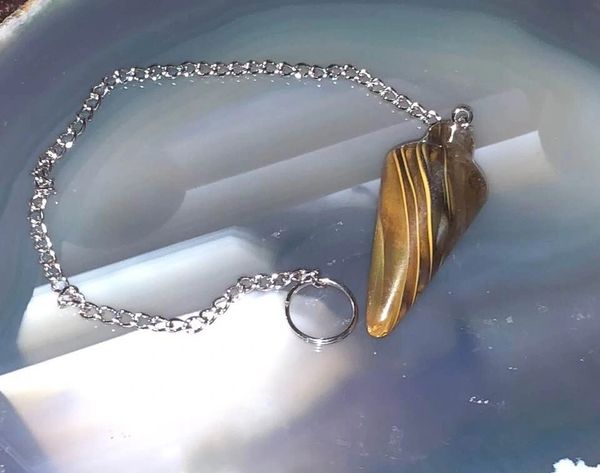 Description
FREE WITH PURCHASE OF 50.00 OR MORE AFTER COUPON IS ONE 1x SPELL PENDULUM.
ONE PER ORDER, SHIPPING DOES APPLY, MUST BE ADDED AT CHECKOUT...GOOD WHILE SUPPLIES LAST
Please only choose one free gift per order
Pendulum will vary
If you add to cart and your order is not 50.00 or more we will send the gift of our choice. Due to the price of pendulums we cannot include one with smaller orders. Thank you for understanding.
Today I offer you a well balanced pendulum that is spelled for your spirit and entity communication needs. 
This is a full coven spell cast pendulum that will allow your inner eye to open safely. A pendulum by itself is a excellent way to communicate with your spirits and entities...However when one is spelled it can be your most trusted, vivid way to communicate.


This is more then just your run of the mill pendulum. By it's self it's a powerful spirit communication tool but this has been spelled to open your inner. With use you will notice you become more open to the spirit world. You can feel, hear, sense and even see the spirits around you. 


I know there has been worry about the inner eye being opened to fast. With this spell this something you do not need to worry about. It is 100% safe and works with you as a pace you are ready for. 


Any block that is keeping you from getting to know your spirits will be removed...This leads to bonding faster and stronger bonds.


The spell will protect you from evil entities and will banish negative energy. Nothing evil or harmful can use this to reach you. The pendulum is a beautiful stone with a silver colored recharging, cleansing and boosting chain. Please note the pendant you get may differ in color or pattern slightly.
If you have any questions please email me at jamie@blujay76.com


Thank you for looking!
Please note that if you add this to cart and do not spend $50.00 or more before shipping we will not send it. Thank you for understanding.