Use Code SEPT80 For 80% Off Orders Over 99.99
Edion - Powerful Banshee From Coven's Collection - Enhances Psychic Abilities, Issues Warnings and Aids In Communicating With Ancestors!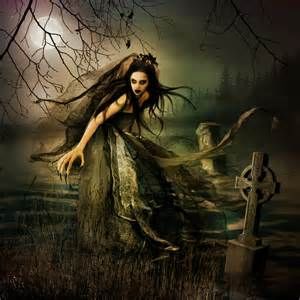 Description
Today we are pleased to offer Edion who is from our personal collection.
In her true form she manifests as a woman in her early 30's with pale skin, long thick black hair, and black eyes eyes. She manifests to her keeper as a high-pitched noise, shadows, purple orbs, cool spots and minor electrical disturbances.
A Banshee is on the darker side but not evil...They offer some of the most magickal of of blessings to their keeper. We always suggest every keeper be open to a Banshee. There devotion and dedication are unmatched! We as a coven have been working with her for 9 years and she is truly amazing.
Her main abilities include but are not limited to:
~Warning keeper of danger
~Enhancing keeper's psychic blessings
~Easing stress
~Providing insight into the afterlife
~Aid in communicating with ancestors
~Removing negative blocks
She communicates well through emotions, pendulum, telepathy, lucid dreams and meditation. 
If you have any questions please email me at jamie@blujay76.com
Her current vessel is a nicely made bead.
Thank you for looking!