Use Code 85MEM For 85% Off Orders Over $249.99
Custom Baba Yaga Wishing Box - Custom Made Just For You - Sorceress Level - Wealth, Popularity, Fame, Protection, and Love!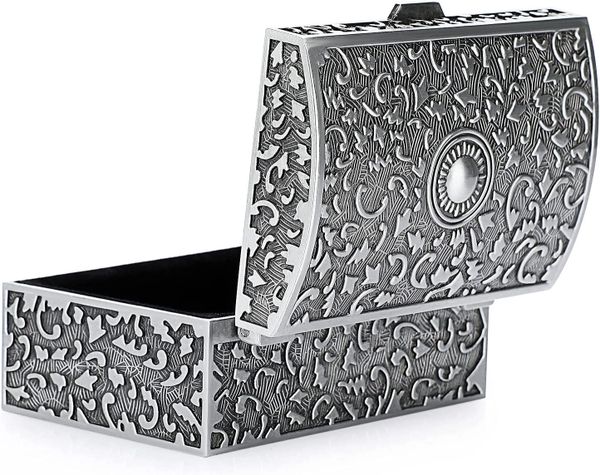 Description
We normally only offer these during Samhain and Yule...They are our most popular since 2006! Today we are opening up this offering and will offering a few custom royal level wishing boxes a year. The boxes offered today are custom Baba Yaga wishing/portal box. 
A Baba Yaga who is a Sorceress level is equal to a God level...The Baba Yaga we conjure for you will be a master spell caster who can cast nearly any spell. Please let us know if you would like WA, GA, or DA.
A Baba Yaga can also any number of types of spirits/entities to assist in spell work and granting wishes. 
We have one spot open at this price...Don't miss out...These are miracle creators!
With the portal will be a number of entities from Khodams to rare hybrids...You do not have to bond or give them offerings...They grant wishes by loyally serving their Baba Yaga keeper. 
***LIMITED***
Please note the box may vary from the one pictured. Please not these portals are for your personal use...They can be used for resell or given as gifts. They will work wonderfully for your blood ties.
These are portals to all types of Daemon, however there are also other powerful spirits and entities as well. The portal opens to entities such as wealth marids, spriggans, leprechaun gakis, hags, wraiths,]red dragons...There are many others too...You may encounter Seraphim Angels, Warrior Archangels, Divine Angels,and Elves. This offering is wonderful way to receive all blessings without keeping or caring for them! Each is helpful and ready to send you the blessings you want or need. These are free entities that cannot be bound, sold, or given as gifts. They will bless you and your blood ties.

This is an exceptionally powerful tool that also has secondary abilities...You can wish for mind power, psychic abilities, protection, aura cleansing, happiness, sexual allure, inspiration and maybe even fame. People who have used wishing boxes have found true love, massive success, return of lost items/people, new passion, inner eye abilities and any other blessing you can think of.


You will literally have over 1000 entities and spirits just waiting for your wish or desire to be shared with them! 


Some of the worlds most elite have become successful due to these blessing boxes. These are people who are powerful, famous and wealthy. Once all your you asked for is yours you may pass along the box to another or keep it. Deciding to keep it is not selfish and has it's benefits...Many people choose to keep theirs. Keeping the lid open keeps a flow of white light entities in your home at all time. This is a constant flow of pure positivity and magick. Feelings of peace, happiness, fulfillment and positivity will always be with and all around you.


These are simple to use and will transmit your wishes and desires to the correct angel that is capable to granting them. It contains a direct link to the their realm. All you need do is to write your desires upon a piece of paper and place it within the box. For a faster manifestation leave offerings daily, meditate next to it and light cones of incense as respect. You will begin to see the manifestation of your desires. Wish time may vary, may come all at once or a little at a time. Watch for signs of the entities as they may be communicating to you and act on all signs. The possessor of this box will find many life positive changes...Only good can come from this. Rewrite your destiny and live a life few have the change to.


The most advanced feature of this box is the wishing portal or more then willing to bless jewelry or stones you place within it. If you need a powerful amulet for luck or anything else simply place it in the box and it will be blessed just for you. The entities will bless it for you and your needs only so the blessed pieces are not ideal for resale or to be given as gifts for resell. However there is success when making wishes for your blood ties.


Some of the entities may grow close to you and stay close to you. Others will come, help and then go back until you need them again. These entities are not bound nor are they bindable but free so they bless out of love.


There is not bonding rituals needed. Once this warms to your touch it will be yours and it will be ready to use.


I will send the simple instructions on how to use it to the new possessor.


If you have any questions please feel free to email me.


The box you get will resemble on in the photo. 

Thank you for looking! 
This is a custom creation. Please allow us 14 to 21 working days to summon and open the portal.