Use Code summer75 For 75% Off Orders Over 59.99
Conjured By Queen Sabine and Clerie - God Level Haitian Djinn - Fame, Memory, Learning, and Wealth!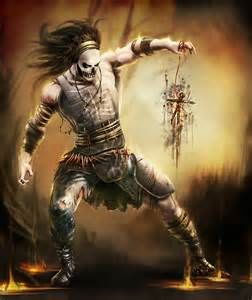 Description
Today from Sabine and Clerie's personal collection is a God level Haitian Djinn

While Queen Sabine is retired she still is able to offer some of her personal entities through her Granddaughter Clerie. This extremely powerful Djinn was conjured by them using ancient Voodoo...Being God and possessing Voodoo magick truly sets him far above the rest.
We have been offering out items on the internet since 2006...Since 2006 he only the second God Level Haitian Djinn Sabine has offered. If you feel a pull don't wait...As to when we can offer another one is unknown.

blujay76

He is 46,033 years old. His title of God is earned, not given. Only the eldest, wises and most powerful of Djinn reach God status!
As far as his magick and wishing granting he resembles the Sila Djinn...He also commands an entire realm of both Haitian Djinn and Sila Djinn...His power and his energy are breathtaking and even a little knee weakening.
In true form he is 6'2" tall, has short black hair, a lean build, and flawless dark skin. He looks to be in his early 30s. He will most often manifest as amber colored lights, warm spots, and herbal scents.


He is a very hard worker who grants wishes true to form...No tricks, no pranks and no twist. Just true blue wish granting by a once in a lifetime Djinn.


He will work well with all people, especially those who want to improve their memory, their creativity, learning abilities, mind reading abilities, medium abilities, mind control, wit, and concentration.


His keeper will also have improved intelligence and wit. He will give you the ability to outsmart people, be cleaver, and you will possess charisma!

If you are an entertainer or even a writer he can help you be noticed by the right people.

He is a gifted wish granted who will see that you become more creative, better health, youth, energy, willpower, luck, wisdom, wit, charm, mental health, confidence, success, luck, extra money, new opportunities, better memory, enhanced learning abilities, protection, happiness and a lot of love. Plus so much more...He is also a wonderful companion who is kind, giving and supportive!

He can be active...However you can make the suggestion not to be active. He will follow all house rules. If you like active entities he is perfect for you! He can effect lights, change the temperature and makes soft tapping sounds.

He communicate best using telepathy, emotions, dreams, a pendulum, and visions.


If you have any questions please feel free to email me.


Thank you for looking!