Use Code 70Jan For 70% Off Orders Over 39.99
Yule Conjured Commander Violet Flame Healer Archangel - The Angel Of Life Renewal, 2ND Chances - Healer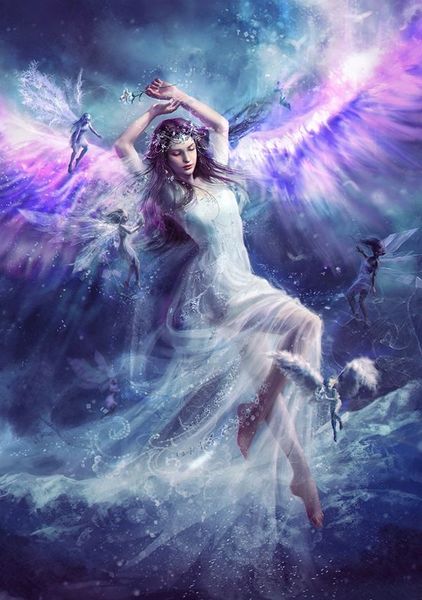 Description
Today we offer our newest conjured Commander Violet Flame angels....While we are always working towards offering this magickal and gentle race, she is extremely special...She was conjured this Yule. She possesses the magickal of Yule...Soothing, positive, uplifting, and renewing. Her energy is ideal, it must be felt to understand!

We are truly honored to offer her today to one lucky person.
A Commander is a leader among angels...They are equal to a King or a Queen. She currently has over 550 angels she commands. While she only commands Violet Flames she can bring Warrior Archangels if you wish her to.

In true form she is perfection...Fair skin, short white hair, large violet eyes, large white and lavender wings. She looks to be in her mid-30s and may manifest as temperature changes, soothing energy, and lights.

About this race...This race is coveted for their ability ease all levels of stress, headaches and aches and pains. This race also is very popular for helping people heal from emotional pains…They also uplift create peace, bring happiness and can bring about good luck…They can be more then healers! They remove the negative and bring in the positive. In no way is she to replace medical care of medication.
They can their keeper break habit of negative thoughts, racing thoughts, and thinking. 

Here is a list of their main abilities blujay76
~Minor Healing
~Mental Healing
~Spiritual Healing
~Minor physical healing
~Cleansing of the spiritual bodies
~Bringing renewal
~Clearing negative blocks
~Attracting positive energy
~Providing protection from all evil, curses and negativity.
~ Aura Repair and protection
~Safe opening of inner eye for lucid dreams and medium abilities

~Better spirit communication and bonding abilities.
She can communicate by emotions, visions, telepathy, dreams, during meditation and a pendulum.
Her current vessel is a bead.
Thank you for looking!
Please note that he is not to replace medicine or a doctors care.