Use Code 70Jan For 70% Off Orders Over 39.99
13 Magickal Sandalwood Incense Cones - Spell Cast For Offerings, Boosting and Protection 13 Cones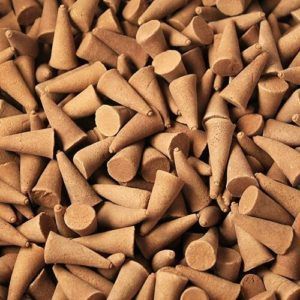 Description
These are handmade with care so that they will be perfect for your needs. They are spelled for enhanced benefits and make excellent offerings for all spirits and entities. Both White and dark entities thrive when a cone is burned for them.

Sandalwood is considered among many the all purpose scent and can be used for many different things. It has been a favorite of mine to use during rituals, spiritual bonding, spell boosting and spirit/entity offerings. It also can help aid us in deeper clear meditation.

About Sandalwood...It is one of the oldest incense material and has been in use for at least 4,000 years. It is one of the most calming incenses and therefore is one of the preferred ones for meditation. It calms the mind, enhances mental clarity, and aids in the opening of the third eye. Sandalwood can enhance spiritual energy and even aid in bonding.

I will send you 12 cones that range in size from 1" to 2" They are long burning and burn clean, no black smoke.

If you have any questions please feel free to email me.

Thank you for looking!